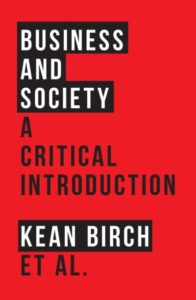 The best way of discovering what BUSO is about is to read the textbook, Business and Society: A Critical Introduction (Zed Books, 2017) which has been written by members of faculty in BUSO and is used in BUSO teaching across the curriculum, especially in our first-year, introductory lecture
What is Business & Society?
The BA and the Honours BA programs in Business and Society (BUSO) provide the opportunity to study the impact of business on society and society on business. Students who enrol in Business and Society will undertake this study through a multi-disciplinary approach, using texts from philosophy, history, economics, geography, sociology and political science. The program combines courses that provide the analytical tools necessary to study and research business and society with courses that focus on the political, social, and cultural context of business.
The core of the program consists of four courses:
Microeconomics
Macroeconomics
Introduction to Business and Society, and
Intermediate Business and Society
and six specialized streams of study of which students are to choose two:
What Business & Society is not...
The program is not a business program in the traditional sense and it does not, therefore, equip students with the skills for working in particular sectors of business; rather it provides historical, social, scientific and ethical perspectives on the role of business in the world and explores alternative models of business to those associated with traditional private enterprises.